Looking for a Pet ID that looks like a Pet Driver's License Tag? Our New York Pet IDs are perfect for dogs, cats, and any other family pets. Each New York Dog Driver's License is printed with your pet's photo and detailed information such as an address, breed, date of birth, and more! Our tags are printed on heavy-duty plastic to ensure you the highest quality and durability.
At MyPetDMV, we are proud to offer high-quality Pet Driver's Licenses specifically designed for the State of New York. Our user-friendly system allows you to create personalized driver's licenses for your beloved pets, including dogs, cats, and more!
Capture your pet's unique personality and love for New York with our custom-designed licenses. Whether you have a dog, cat, or any other furry friend, our licenses feature their name, breed, and charming photo, making it a delightful keepsake and conversation starter.
Join thousands of pet owners who have embraced the trend of Pet Driver's Licenses with our custom designs and attention to detail, your pet can now be a part of the fun too!
Available for all 50 states. Each order comes with 2 different sizes, a Real sized Pet License, and a Smaller Collar version.
See an example of a New York Pet License Below. Some states may have multiple versions of IDs.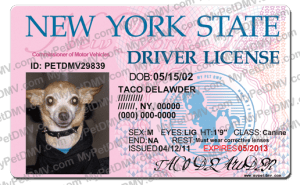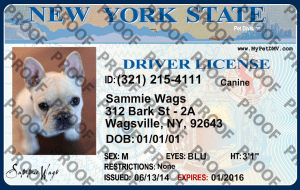 Chihuahua Dog Driver's Licenses
At MyPetDMV, we're thrilled to offer Chihuahua Driver's Licenses, a delightful way to showcase your furry friend's cuteness and imagination. With our easy online process.
Picture the joy of presenting an official-looking license that captures your Chihuahua's adorable features. It's a great conversation starter and a unique addition to your pet's photo album. Our licenses feature your Chihuahua's name, breed, and charming picture, adding a touch of whimsy to their daily adventures,  you can create a personalized
Chihuahua Driver's License
for your beloved pet.
Get Your Pet License for New York State: Easy Application Process
To Design your Pet Licenses for the State of New York, simply complete the New York State Dog License Application. Designing your pet's license with our user-friendly form. Here's what you need to provide:
Your Contact Information
Pet owner's full name
Email
Pet's Contact Information
Pet's Address
Pet's City
Pet's State
Zip Code
Emergency Phone Number
Pet's License Information
Pet's Name
Weight
Pet's Eye Color
Pet's Hair Color
Pet's Signature on Card
Pet's Height
Sex
Pet's Date of Birth
Pet Picture
Once you've filled out the form, don't forget to check our Pet Licenses Design book to personalize your order. For only $19.95, you'll receive your Pet's New York Pet License, and we offer FREE SHIPPING on ALL ORDERS.
Obtaining a Pet License in New York has never been easier. Complete the Application Form today and ensure your beloved pet is officially licensed in New York State!
Frequently Asked Questions
1. Do I really need to license my pet in New York?
Yes, all dogs and cats in New York are required to be licensed.
2. How do I obtain a Pet License for my beloved companion in New York?
Getting a pet license in New York is a simple process. Visit the website for specific requirements and documentation. Usually, you'll need proof of your pet's vaccinations and a completed application form. Once approved, your pet will receive their official license.
3. Are there any specific Pet License requirements in New York I should know about?
Yes, each city in New York may have slightly different requirements. Ensure your pet is vaccinated and healthy, as this is a common prerequisite. Additionally, some areas may have breed-specific regulations, so be aware of these guidelines when applying for a pet license.
4. How much does it cost to license a pet in New York?
Each Pet ID License comes with (1) a large wallet-sized Pet ID Card that looks similar to an actual Driver's License and (3) smaller versions for $19.95. FREE SHIPPING on ALL ORDERS.
5. What happens if I don't license my pet?
Pet owners who fail to comply with pet licensing regulations can be subject to fines and penalties.
6. How often do I need to renew my pet's license?
Pet licenses in New York must be renewed after their expiry date mentioned on Pet ID.
7. What is the purpose of a Dog Driver's License tag in New York?
The purpose of a Dog Driver's License tag in New York is to ensure that all dogs riding in vehicles in the state are properly vaccinated and licensed, which can help prevent the spread of disease and ensure public safety.
8. Do Cats Need to be Licensed in New York?
No, currently, cats do not require a license in New York State. Licensing requirements typically apply to dogs, while cats are not subject to the same regulations. However, it's important to check with your local authorities or animal control to confirm any specific requirements in your area.
9. What should I do if my pet goes missing in New York?
Stay calm and take immediate action. Contact your local animal shelters, veterinary clinics, and animal control offices to report your lost pet. Additionally, post flyers in the neighborhood and use social media platforms to spread the word.
10. Can I travel with my pet in New York? What are the do's and don'ts?
Yes, you can travel with your pet in New York. Ensure your pet is comfortable during the journey, and bring along their essentials like food, water, and a travel crate. Always follow the rules of the places you visit and clean up after your pet.
11. Do Cats need to be licensed in NYC?
No, currently, there is no requirement for cats to be licensed in New York City. Pet licensing is specific to dogs, and cat owners are exempt from this regulation. However, it's essential to ensure your cat is up-to-date with vaccinations and follows local pet regulations for a safe and happy life in the city.
12. What is a pet identification card in New York City?
A pet identification card in NYC is an official document that includes essential information about your pet, such as its name, owner's details, and contact information. It serves as identification and can be useful in reuniting lost pets with their owners.