Have you ever lost your pet and wondered how you could easily ensure they find their way back to you? Or, have you pondered the thought of what identification your pet would need if they accidentally hitch a ride in the neighbor's car? The answer lies in the form of a pet driver's license.
Why Do You Need a Pet ID?
A pet ID is essential to provide a form of identification for your furry friend. Should your dog or cat get lost, a pet ID will help anyone who finds them know how to return them to you.
What Is a Dog License?
A dog license is a legal requirement in many areas. It not only shows that your dog has been vaccinated against rabies but also helps in identifying your dog if they get lost.
How Is a Dog License Different from a Pet ID?
While both provide identification, a pet ID is usually more detailed. It can include your contact information, the emergency medical needs of your pet, and more, helping your pet get the right care and to return home more quickly.
What Is a Pet Driver's License?
A pet driver's license is a unique and fun twist on a standard pet ID. It looks similar to a human driver's license, complete with a photo of your pet, their name, address, and contact information.
What We Are Offering?
Get high-quality Pet IDs for dogs, cats & family pets. Printed with pet's photo & info. Durable plastic, 2 sizes available. Perfect for all 50 states.
All Pet ID Tags Include:
(1) Wallet and (3) Keychain Pet ID Tags
$19.95 + FREE SHIPPING
The ID that looks like a Driver's License for all 50 USA States and Canada. With our 24 Hour printing guarantee, your loved cat, dog, or any pet will get an authentic State Dog ID collar tag, along with (3) Personalized Key-Chain IDs usually the same week you order. PLUS…additional pets only $9.95 at checkout! Get the most unique Personalized Pet ID Tag available.
Our Pet IDs and Dog Collar tags can be put on your keychain, on your Pet's collar, or keep as a spare Pet ID in your wallet. Design Online in under 5 minutes, orders print in 24 hours.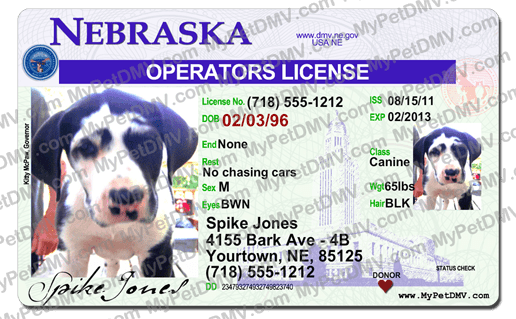 In the state of Nebraska, pet owners are obligated to acquire a pet license for their dogs and cats. This requirement aims to provide identification and safeguarding for pets in case they go missing or are stolen. Pet licenses are available in different forms, such as dog driver's license, pet ID, and cat registration IDs.
The process of obtaining a pet license varies across counties, but generally, you will need to complete an application with your pet's details, including name, age, breed, and photo. Additionally, a fee must be paid, which covers vaccinations and spaying or neutering if necessary.
Once approved, you will receive a dog license card or a driver's license dog tag to attach to your pet's collar. This serves as official identification and aids in the recovery process if your pet ever gets lost or stolen.
Click Here to Design Your Pet Licenses for the State of Nebraska
Offer Details:
MyPetDMV Dog & Cat licenses are used for novelty ID purposes only. You will have the opportunity to design and proof your PetDMV license before it ships. 30-Day Money Back Guarantee on any print issues (Less P&H). Shipping is $4.95 per order. Not Affiliated with or Endorsed by the Department of Motor Vehicles. Any IDs created that do not contain a Pet's photo, illegal, or Fake IDs, will be discarded without a refund and forwared to authorities. Customer Service: info@mypetdmv.com. Each ID is custom made, orders print in 24-48 hours, shipping time is between 7-14 business days.
About Pet Identification:
Pet ownership has experienced continued growth. It is critical for Pet Owners to realize the importance of Pet Identification Tags, or Pet ID tags. Pet ID tags are a key component to securing and protecting animals from being lost, stolen, escaping through open doors, jumping fences, broken leashes/chains, etc. MyPetDMV wants to promote proper pet tracking, promote training to pet owners, and continued pet ownership education as a best practice. Even if a Pet ID License is not right for you, please make sure you participate in some sort of Dog ID Tag online.